Our Blogging  Journey Begins…
As a family, we're going to become human guinea pigs. We're going to experiment on ourselves.
Over the next few months, we're going to start living life for our microbes to see if that makes a difference to our health and happiness.
How? Through changing our diet, our lifestyle, our environment and through our supplement intake
We're going to apply the latest science about the microbiome to our family's life – plus hopefully roping in willing friends and our extended family members.
From ancient diets, to modern technology – we're going to see what works, what doesn't (at least for us) and to bring you the results.
There's three of us in our family, Toni and Alex as parents (both in our forties), and our 8 year old daughter. None of us have any particular outstanding health problems.
Talking about just Toni and Alex, we're normal weight, we try to eat a proper diet, we try to exercise and neither of us smoke. But through making our MICROBIRTH film and through our filming so far for A PROBIOTIC LIFE, as filmmakers we've become the unhealthiest we've ever been.
Whilst on the road filming, we tended to grab food when we could and not necessarily seek out the most nutritious of meals. Then, when locked in an edit suite for weeks on end, it's very easy to turn to snacks and processed foods to keep you going.
Alcohol use – though we don't drink to excess, both us like a glass of wine, or a beer or two. The latest research indicates alcohol is the enemy of microbes – it is one of the "dietary disrupters" of gut microbes (more about this in a future blog)
Lack of exercise – whilst filming or editing, it's difficult to squeeze in a jog, a trip to the gym or even a healthy walk.
Lack of exposure to nature – again, when editing, it tends to be a dark room and the windows are closed. We live in a flat in a city, we don't have a garden, and so we might not see a tree for weeks.
Also, the stress of making and releasing a film. Science indicates that stress may affect our microbial populations.
All this has paid havoc on our bodies, and no doubt, on our friendly communities of microbes that live on us and in us, that call us home.
We, meaning Toni and Alex, are now the heaviest we have ever been. We lack energy. Mood wise, we think we're happy – but could we be even happier?
Now is our chance to turn things around. We're going to make conscious choices to eat for our microbial populations. To take exercise. To make lifestyle choices that are good for our microbes. For the sake of the health of our family. And potentially, for our future grand-children!

Let's see where our journey takes us.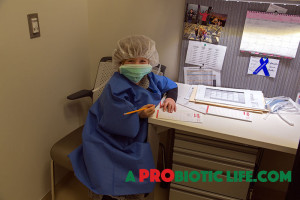 [Our 8 year old daughter Willow wearing surgical gear whilst filming on location in the US]